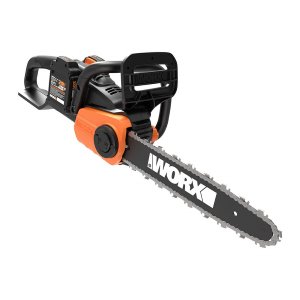 The Worx WG384 40V Cordless Chainsaw is a powerful battery-operated unit that comes loaded with features. This Chainsaw uses twin 20V batteries for an immense amount of cutting power. You can purchase the chainsaw with the batteries and the charger included, making it a total package. You also get a dual-port charger and a blade protection cover when you purchase this awesome chainsaw.
The chainsaw comes with a 14" bar & chain, making it ideal for landscapers, for property owners, for ranchers, and for farmers. Anyone who has a laundry list of landscaping jobs to complete can get a lot of use from this chainsaw. It is excellent for cutting firewood, for pruning branches, and for cleaning debris.
The chainsaw includes a quick-stop chain brake to prevent kickback, it has 40 volts of maximum power for the best performance, and the high-efficiency brushless motor is specially designed to stay working for longer. Plus, you get loads of cuts on a single battery charge. With other inclusions like the automatic lubrication system and the automatic chain tensioning system, this really is the best in cordless chainsaws.
---
Worx 40V Chainsaw Review: Overview
We have a lot to go over today. This is going to be a full review of the Worx WG384 Chainsaw, and you are going to learn all about how its automatic features, strong design, and well-implemented cutting technologies will make your life easier.
There is no doubt that this can replace your old and outdated gas chainsaw. With 40 volts of raw power, a lightweight frame that is easy to handle, and a strong brushless motor, you will never want to return to your old gas unit again.
Powerful Safety Features
One of the most important parts of any chainsaw is the chain brake system. The chain brake is necessary to keep you safe while operating the chainsaw in case of kickback. Kickback is what happens when something goes wrong and the chainsaw arcs violently upward towards your face.
While most chainsaws do come with a chain brake, the one on the Worx WG384 is incredibly advanced and stops on a dime. In fact, the chain is going to stop in its tracks instantaneously the moment kickback occurs. This will keep your face from being attacked by a spinning chain.
---
Powerful Brushless Motor
The Worx 40v chainsaw comes equipped with a very powerful brushless motor. The motor is more advanced and more efficient than older models, and it is made with better components to ensure the motor will continue running long after you have purchased it.
The immense power spins the chain around the bar at roughly 26 feet per second, and it does not even use that much battery power. On a single battery charge, including both twin 20V batteries, you get a full day of work. You can also charge both batteries at the same time using the dual-port charger.
Whereas most cordless chainsaws use a weak 20V battery to power them, this unit uses two. Twin batteries give double the power over a single battery, ensuring flawless performance and a reliable day of work. The power of this chain saw is equivalent to any 14" gas chainsaw!
---
Electric is Better
There is a big ongoing debate over which is better, gas or electric. The truth is that electric power is definitely better when it comes to smaller chainsaws that are only used for landscaping applications. When using this cordless chainsaw, you get the exact same power you would get with a similarly sized gas unit. But you get better features.
For example, it is less expensive to run an electric chainsaw. You don't have to worry about gas or mixing your gas with the proper oil. It is also cleaner, keeping the air free of toxic fumes and harmful chemicals. Using this cordless chainsaw is much better for the environment than using a gas-guzzling chainsaw.
Related Articles:
And you don't need to sacrifice performance. Considering the small size of this chainsaw, it is highly likely you will only be using it for firewood, for pruning branches, and for other general labor tasks. Because of that, there is absolutely no reason to have a giant chainsaw that runs on gas. It would be overkill.
---
Lots of Features
The Worx 40v chainsaw comes with lots of additional features that make using it much easier. One of the coolest features is the onboard battery indicator, which acts as the fuel gauge to let you know how much juice is left inside the battery. This allows you to better plan your recharging schedule, and to switch batteries out when necessary.
There is also an automatic lubrication system. This system works to keep your chain properly lubricated as it spins around the bar. This is extremely important for the life of your Worx machine, and also to prevent any possible kickback. With the chain being lubricated automatically, all you must do is fill the reservoir and forget about it.
There is also a very handy chain tensioning system, which works to reduce the chance of kickback while keeping your chainsaw running smoothly.
---
Worx 40V Chainsaw Review: Final Thoughts
The current marketplace is absolutely saturated in cordless chainsaws. Everyone wants to get rid of their old gas models and exchange them for environmentally friendly units that do not require gasoline, that don't have complicated carburetors, and that don't involve constant air filter changes.
But even though the market is saturated with poor-quality cordless tools, you can still trust the Worx WG384 Cordless Chainsaw to be a trustworthy and dependable piece of machinery. This chainsaw has all the features you need. It is safer than others, it has more power by using twin 20V batteries, and the high-efficiency brushless motor is going to last for many years to come.
For yard work, general maintenance, and every kind of landscaping task, this is the chainsaw to do it with. Because of the dual-port charger, there is no wasted time waiting for battery charges. And besides, the batteries work to power your chainsaw throughout the entire day!
Related Articles: